News:
4/14/14 VHT Hike at Chimney Bluffs
On Saturday May 10th, Victor Hiking Trails will lead a hike on the trails at Chimney Bluffs State Park, east of Sodus Bay. The hike will be 3 to 4 miles on varying terrain. Bring a bag lunch and something to drink. Dress for the weather and wear sturdy hiking boots. Meet in the rear parking lot at Victor Town Hall, 85 East Main Street at 9:00 a.m. to carpool to the trail head. Or meet at the park in the large parking lot off Garner Road at 10:00 a.m. Map
Additional details can be found by calling 585-234-8226.
4/6/14 National Trails Day in Victor on Saturday, June 7, 2014
Dave Wright, VHT Chairman, makes the following announcement:
There will be three separate family friendly hikes all starting and ending at Fishers Fire Station, 7853 Main Street Fishers, 14453. Come at 8:30 a.m. for a continental breakfast. The first hike will begin at 9:00 a.m. on the Auburn Trail to the Domine Trail to the Lehigh Trail and back on the Auburn Trail. The second hike will begin at 10:45 a.m. and will hike the trails in Fishers Park. There will be a free pizza lunch at 12:30 p.m. followed by the last hike on the Auburn Trail to Powder Mills Park and back. Everyone who completes all three hikes will be offered a free membership to Victor Hiking Trails, Inc.
There is no fee for the hikes or the food. Just call 585-234-8226 to make your reservation.
The hike is co-sponsored by Victor Hiking Trails and Genesee Valley Hiking Club.
Map.
3/27/14 The Spring 2014 VHT Pathfinder Newsletter is now available.
The newest Newsletter is available. It and past issues are available from the link in the left hand column.
Come hike with us on National Trails Day
Hikes for 2014
Past Hikes

Jan. 11- Harriet Hollister Park.
Jan. 17- Full Moon -- in and near Victor.
Feb. 8- Fishers Park: Too cold to go to Mendon.
Mar. 8- Mendon Ponds Park.

Upcoming Hikes

Apr. 12- Canadice Lake Trail
May 10- Chimney Bluffs
Jun 1- Special with Springwater Trails. See page 5.
Jun. 7- Mendon Ponds Park

Springwater Trails: a neighboring Hiking Group, Hiking Trail, & more
Backpacking Checklist
Cycling Checklist
Trail Maintenance Schedule for 2014
VHT Sponsors Thank them!
3/23/14 Trail Maintenance Schedule for '14 Is Available
The 2014 Trail Maintenance schedule is now in the VHT Calendar and as a downloadable PDF file.
Our Trail Boss, Larry Fisher, says
We meet Wednesday evenings at 6:00 PM and most Saturday and Monday mornings at 8:00 AM, from May through September. Volunteers should come equipped with sturdy shoes and proper covering against poison ivy. The work usually lasts about one to two hours. Sometimes we cancel due to rain and then shift the schedule. We may also cancel during extended dry spells or excessive heat. We now have three crew leaders, each responsible for the days we work. Chauncy Young (455-1932) covers Saturdays, Nat Fisher (752-3417) covers Wednesdays and Larry Fisher (880-9090) covers Mondays. Please call the crew members if you are unsure of the location or if we plan to meet. You can also call the Trail Boss any time at 880-9090 for additional information. You can also click the location column on our online calendar and get directions to our work site for the day.
3/3/14 VCS Safe Routes To School Project Update
The goal of the Safe Routes to School project is to create safe pedestrian linkages from the residential neighborhoods to school facilities that serve K-8 students. The Town received a grant from the Federal Highway Administration / New York State Department of Transportation in the amount of $389,815 for the construction of a series of sidewalks and provide educational opportunities on the importance of walking and biking. This is a similar funding mechanism that we tapped for the Auburn Trail and Lehigh Valley Trail projects. The local project advisory team consists of Supervisor Marren, Gloria Dunton (Town Fiscal Manager), Mark Years (Highway Superintendant), Chris Marshall (VCSD Director of Buildings and Grounds) and Brian Emelson (Parks and Recreation) as the Project Administrator. We hired Fisher Associates in the fall to act as the consultant engineer on the project.
Once we have determined the preferred location of the sidewalks and sought public input on the project, we will be required to receive Design Approval from the FHWA / NYSDOT. The project will also need to travel through the State Environmental Quality Review (SEQR) and National Environmental Policy Act (NEPA) processes. We anticipate receiving Design Approval this spring, which would have us going out to bid for construction of the sidewalks in June / July. We are currently looking at constructing sidewalks in the following areas:
High Street to the Jr. / Sr. High School along the West Entrance of VCSD - this will link up with the sidewalks that are slated to be constructed on High Street as part of the High Street Capital Project.
Lane Road from Sagamore Way to the Lane Road Entrance to the VCSD Campus.
Along the Campus Drive to the Intermediate School adjacent to the athletic fields.
Latchmere Drive to the Intermediate School
For more information, contact Brian Emelson at (585) 742-0141 or bemelson@town-victor-ny.us
Map & Display (PDF).
2/13/14 Woods Walk & Trail Run at Pfeiffer Nature Center
The 8th annual Woods Walk & Trail Run at the beautiful Eshelman Property of the Pfeiffer Nature Center in Portville NY (near Olean) will be Saturday June 14, 14. There will be these events: 5K Run AND Walk, 10K Run, 10Mile Run, and 10K Walk. Information is at http://www.woodswalk.net/index.html.
Note: This is a great "park" with very nice trails. Well worth an afternoon or more.
11/9/13 History hike at Ganondagan
By David Wright
On Saturday November 9th, 12 outdoor enthusiasts enjoyed a special hike hosted by Victor Hiking Trails and led by Peter Jemison, Site Manager at the Ganondagan State Historic Site in Victor. Peter met the group at the top of Fort Hill and told them about the early history of the Seneca Nation and their relationship with the British, French and Dutch. The group hiked over to the "long house" at Ganondagan where Peter told the hikers about the new Visitors Center that will be build over the next 14 months. This was followed by a hike on the trails at Ganondagan, back to Fort Hill and then on the trails at Dryer Road Park. Additional educational hikes are planned for the 2014 season.
(Note that in the pictures, Peter is wearing the baseball cap.)
11/3/13 Trails Effects on Property Values
While there have been many studies of the effect on property values near trails through out the US -- nearly all showing a positive effect --, and an informal study of ads saying something like "Near Trail!" vs "Not Near Any Trail!" (a lot to zero), an October '11 study of home prices in Hamilton County, Ohio by the University of Cincinnati gives some very precise data.
"The current study focused on 1,762 residential properties located within 10,000 feet of the trail." The trail in this case was a 12-mile section of Ohio's Little Miami Scenic Trail, a multi-use trail like our Auburn and Lehigh Trails. "The research used street network distances between residential properties and the closest trail entrance." The homes "average 2,203 square feet of living space. The average price was $263,517."
The take away numbers are "housing prices went up by nine dollars for every foot closer to the trail entrance. Ultimately, the study concluded that for the average home, homeowners were willing to pay a $9,000 premium to be located one thousand feet closer to the trail."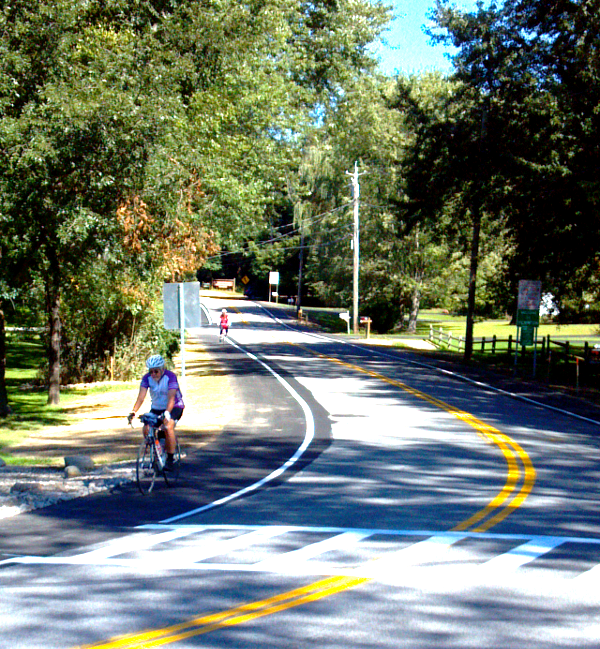 9/18/13 Auburn Trail Extension Open on Woolston Rd to Powder Mills Park
The Auburn Trail Extension to Powder Mills Park along widened shoulders on both sides along Woolston Rd has been constructed. While there is still work to be done, it is usable.
The picture is from near the main Auburn Trail, looking east to the entrance of Powder Mills Park, with a parking lot on the far right side. It was a beautiful mid-September day as the final striping was completed and users were already using it.
Note: Bikes may be used on the roads but are not permitted on the trails within Powder Mills Park.
The full Auburn Trail Extension Project from Fishers to the Pittsford town line and Powder Mills Park still has more work to add various amenities and signs. This should be completed next year.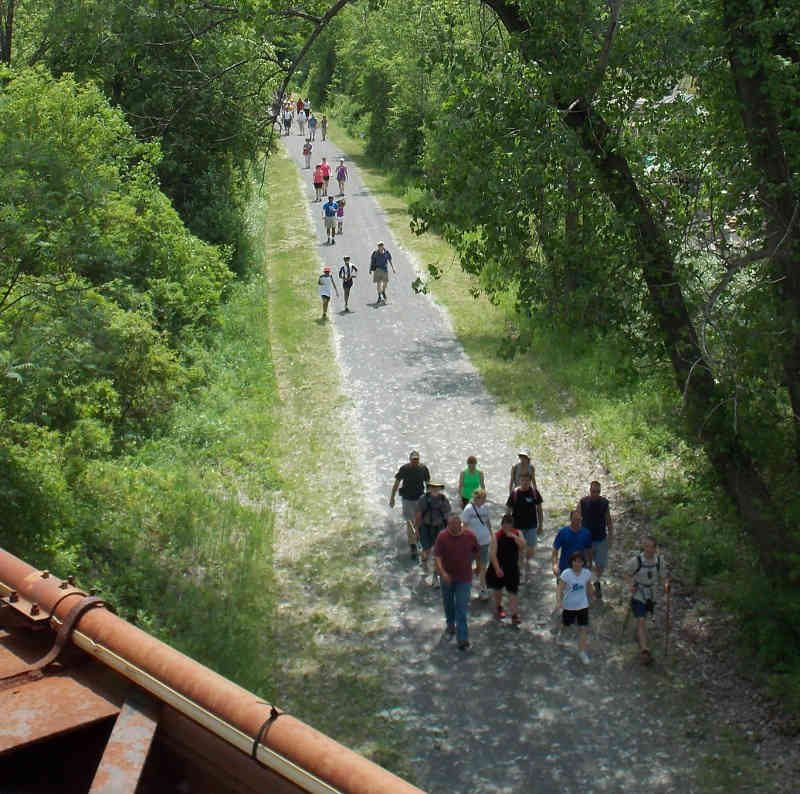 6/2/13 National Trails Day: (Surprise!) A Big Success!
The day threatened with thunder storms, but we didn't see any rain at all. Nearly 100 people participated in the hike along the Auburn Trail from Farmington's Mertensia Park across Victor to Powder Mills Park. 40 of them doing the full route. We welcome the new VHT members who earned membership by doing the full length. (From 6-years-old up!)
And a big Thank You to the all the Volunteers who led the hike, did the food service, provided rides back for those needing to doing part way, and for maintaining the trails in such great shape. (And arranging the weather.)
As always, the trail was being used by lots of other people, too. Walkers, runners, bikers, dogs (on leashes); in ones, twos, larger groups and families.
5/28/13 Seneca Trail Completion!
Victor Hiking Trails' Seneca Trail is now complete! From the connection with the Crescent Trail System at the Perinton Town / Monroe County line (Lasalle Parkway) all the way south into East Bloomfield and through Boughton Park. (Boughton Road). It is approximately 14-miles long. Click for Detail Map of the Seneca Trail.
The last link, through an open meadow, under the high power lines across NY 96 from Eastview Mall, from Turk Hill Rd to the top of High Point, was mowed and blazed by VHT Volunteers on Memorial Day. This section has only been mowed once so it will still be rough, but it is most definitely open and usable. And, it has some great views, too, thanks to the power line corridor.
Thank You Volunteers! Thank you land owners for giving us permission to use your land. Also Thank You VHT Members for the funding for the equipment, repairs (one of the Billy Goat mowers did stop working during this project), and fuel.
The Turk Hill Rd. crossing is at the signal light. Be very careful there: Drivers are not used to seeing pedestrians at that intersection. There is not yet any special pedestrian traffic signals or controls. (And as of May '13, the crosswalk lines on the pavement have been worn to near non-visibility.)
This follows the great work our Volunteers did on the section from Turk Hill Rd. to the town line earlier this season.
Note: Parts of the Seneca Trail are closed during hunting seasons. Spring Turkey season lasts through May. The southern section of the Seneca Trail remains closed until June 1. That section also has had no mowing yet, either.
Still needed on the Seneca are two bridges. One is currently a ford, just south of Valentown, the other is a temporary narrow low board bridge just north of Boughton Park. These will be constructed as funds become available.
This section will be part of the 0 SPF Trail 1/2 Marathon Trail Run on July 20th. from Valentown through the Crescent Trail and back. And also the VHT 3rd Annual Challenge Hike: The full length of the Seneca Trail on September 29th.
5/20/13 Seneca Trail
On Saturday, a crew of volunteers from trailsRoc was out cleaning up the trash along the newest section of the Seneca Trail: From Turk Hill Rd. to La Salle Parkway and the Crescent Trail system. They took out 14 large bags of trash! Thank you from all users of the trail.
Here is a 7-minute video of a walk through this new section. There is considerable traffic noise at each end, but also continuous birdsong. Video. Thank you Ron Heerkens Jr.
trailsRoc will be using the Seneca Trail, from Valentown and the Crescent Trail System for their 1/2 Marathon Trail Run on July 20th, with a portion of the proceedings going to VHT.
5/19/13 Great Day on the Trails
For those of us unable to go to the Adirondacks for VHT's spring weekend, it was a wonderful day on our local trails. I took a short ride on the Auburn Trail to check out the newest section to Powder Mills Park. The trail was being used by bikers, hikers, and runners. Individuals, couples, and families. From youngsters to oldsters as myself. Some I talked with are very familiar with the VHT trails, others were on it for the very first time.
The most common question: "When will it be extended into Pittsford?" The only answer is that that lies with the Pittsford government.
One 7-year old was riding with her mother. They live near Powder Mills Park. They were on their way to Papa Jack's for ice cream. They are regular users of the Auburn Trail. Shows trails are a good business investment, too.
I was also able to pick up a couple bags of trash from the new construction zone. The rest of the trail was looking very good. You too can help by taking a trash bag when you use the trails. It is an important way of volunteering to make Victor' trails -- the trails you use -- the very best.
Also this beautiful weekend, volunteers were out installing 5 picnic tables near trails; were working on the new Seneca Trail near Perinton; widening some trails in parks to allow larger mowers to take over from smaller ones so the smaller ones can do better on the narrow trails; and of course the normal mowing and trimming work that goes on all season. It takes thousands of volunteer hours to make and keep the trails we all use. You can contact our Volunteer Coordinator to help.
---
Welcome to the Victor Hiking Trails, Inc. official Homepage!
Your contribution will help maintain and extend a network of hiking trails in the town of Victor.
We are a grassroots organization that began exploratory meetings in the fall of 1991. We have accomplished a lot, but we still have much work ahead of us. We currently have over 30-miles of open trails. These include well connected multi-use rails-to-trails, secluded woodland rambles, stream side walks, and longer cross-town hiking trails. Some connect various town and state parks, others exist by themselves. In addition, we are actively scouting out possible sites and negotiating with land owners and developers for permission of public access to their property. Our purpose is to develop a trail system which will preserve open space and provide an educational and recreational experience for everyone in the town of Victor.
We the People: Involved in Victor Hiking Trails are kindred spirits. People who care about the land on which they live. People who enjoy nature in all its bounty. People who want to improve their town and leave something that will add value to our lives. People like you. We welcome you among us. We meet on the third Thursday of each month at 7:30 PM in the Victor Town Hall at 85 East Main Street. Meetings are informal and everyone is welcome. Please try to join us, you can get to know us better. We have regularly scheduled work parties for clearing and maintaining the trail system. Please see the calendar.
VISION
Create and maintain foot trails and multi-use paths in the Town of Victor.
Promote a meaningful relationship with nature.
Promote individual responsibility for protecting the environment.
Provide recreational activity through walking, biking, snowshoeing, and cross country skiing.
Provide education to the public through nature interpretation, historical information and proper use of trails.
Promote good relationships with all people (landowners, government officials, adjacent townships, and trail users).
MISSION
Trails of various terrain, landforms, views and habitats for various plant and animal species.
Trails in various geographic sections of the Town of Victor with access by as many residents as possible.
Trails of various lengths and difficulties.
Trails for foot traffic and paths for multi-use including bikes.
OFFICERS:
HISTORY
1980's - Conservation Board initiates concept.
Summer of 1991 - Town Board approves concept
September 24, 1991 - First organized meeting
May, 1992 - Incorporated in New York State
September 18, 1993 - First trail opened
June 16, 1994 - Tax exempt status approved by Federal Government
MEMBERS are people who:
Enjoy nature.
Care about the land.
Want to improve Victor.
ACTIVITIES and CALENDAR
Hikes - Second Saturday each month, two weekends each year and a National Trails Day Special
Maintenance - Usually Monday morning, Wednesday evenings, and Saturday morning each week
Meetings - Third Thursday each month 7:30 p.m. at Victor Town Hall
Saturday and Weekend Hikes
Usually on the second Saturday of each month we gather at 9:00 AM for a 2 to 3 hour hike, for local hikes; bring lunch for more distant destinations. Sometimes we follow existing trails and sometimes we bushwhack to scout out new trail locations. Each Spring and Fall we have a weekend in the Adirondacks. For the location of future hikes watch the newsletter, call one of the officers for detailed information, or see VHT's On-line Calendar. Please join us.... it's a great way to meet the members. Here is the list of past and future hike destinations. And here the map>
How You Can Help
We need assistance in a myriad of areas. Join us at a meeting and volunteer your services. Some of the needs (but by no means all) that we have are:
lead hikes
draw maps
measure trail lengths
make and install signs
build trails, bridges and boardwalks
build map boxes
identify trees, flowers and birds (Monkey Run, example)
illustrate
take photos
write articles for our newsletter and the Town newsletter
collect donated items
work on a committee
recruit new members
work on a fund raiser
scout possible trail locations
help with paperwork
make phone calls
We'll create more opportunities as we grow. Maybe you can provide a skill or interest we need but haven't even thought of yet. You will be surprised how skilled you are. Join us and put your talents and interests to work.
Annual membership dues are:
$10.00 Supporting Membership
$20.00 Contributing Membership
$100 Trailblazer Membership
$250 Path Builder Membership.
Of course, additional donations are gratefully accepted and are tax deductible.

If you join or renew at the $20.00 level or above, you can sign up a friend or neighbor for free.

Donations of useful equipment are also welcomed. If you are an owner of land with trail possibilities, please contact us about a Revocable Permit for a trail.