News:
5/20/13 Seneca Trail
On Saturday, a crew of volunteers from trailsRoc was out cleaning up the trash along the newest section of the Seneca Trail: From Turk Hill Rd. to La Salle Parkway and the Crescent Trail system. They took out 14 large bags of trash! Thank you from all users of the trail.
Here is a 7-minute video of a walk through this new section. There is considerable traffic noise at each end, but also continuous birdsong. Video. Thank you Ron Heerkens Jr.
trailsRoc will be using the Seneca Trail, from Valentown and the Crescent Trail System for their 1/2 Marathon Trail Run on July 20th, with a portion of the proceedings going to VHT.
5/19/13 Great Day on the Trails
For those of us unable to go to the Adirondacks for VHT's spring weekend, it was a wonderful day on our local trails. I took a short ride on the Auburn Trail to check out the newest section to Powder Mills Park. The trail was being used by bikers, hikers, and runners. Individuals, couples, and families. From youngsters to oldsters as myself. Some I talked with are very familiar with the VHT trails, others were on it for the very first time.
The most common question: "When will it be extended into Pittsford?" The only answer is that that lies with the Pittsford government.
One 7-year old was riding with her mother. They live near Powder Mills Park. They were on their way to Papa Jack's for ice cream. They are regular users of the Auburn Trail. Shows trails are a good business investment, too.
I was also able to pick up a couple bags of trash from the new construction zone. The rest of the trail was looking very good. You too can help by taking a trash bag when you use the trails. It is an important way of volunteering to make Victor' trails -- the trails you use -- the very best.
Also this beautiful weekend, volunteers were out installing 5 picnic tables near trails; were working on the new Seneca Trail near Perinton; widening some trails in parks to allow larger mowers to take over from smaller ones so the smaller ones can do better on the narrow trails; and of course the normal mowing and trimming work that goes on all season. It takes thousands of volunteer hours to make and keep the trails we all use. You can contact our Volunteer Coordinator to help.
5/18/13 Kentucky Police Chief: Trail Likely to Deter Crime in Hopkinsville
This Rails-to-Trails blog entry consists mostly of quotes from a Kentucky New Era, the local paper, piece (that requires a subscription), Police chief expects safe rail-trail. It is an interview with Chief of Police Guy Howie, who has had professional experience with trails in prior positions. Hopkinsville is considering their first rail-trail. He is all for trails as a safety feature for the community. The increase in adjacent property values is just a side effect for him.
A couple of extracts from the extract:
"What's there now, it's already being used by some for both legal and illegal purposes. Once we improve that and it's being utilized by law-abiding citizens, and it's maintained and kept up, the people who are using it for illegal purposes now aren't going to want to stay because they don't want to be discovered."

"Every place that we looked or I talked about, or had personal knowledge of, any time those facilities are used, there's generally not a problem. Nowhere could we find where crime went up along those areas to any significant extent. ... There are projects like this all across the country. Nobody has come up with any research that we're aware of to the contrary, or to the negative. It's just a perception, and where it comes from, I don't know."

KNE: "Do you think people who have property that abuts the trail should be concerned?" Howie: "No. I think they should be ecstatic. Right now, it's already being used by those people. ... It's deserted and that's why they're using it. If I owned a piece of property and it backed up to the rail-trail, I would be excited that it's going to be improved."
This mirrors the experiences of Victor, as well. Prior to establishing the Auburn Trail, there were a couple of local "party hangouts." After being cleaned up and the trail being used by the "good guys," there has been no further problems.
The comments in the blog article all are equally as positive, from many different viewpoints.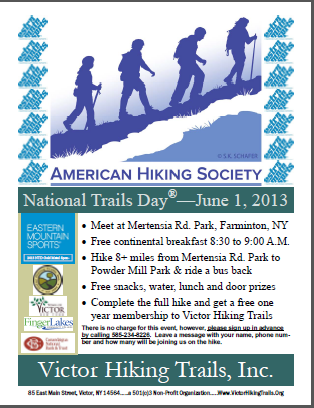 5/14/2013 National Trails Day in Victor
On Saturday, June 1st, Victor Hiking Trails will lead a hike on the entire length of the Auburn Trail, beginning in Farmington at Mertensia Park. A continental breakfast will be served from 8:30 to 9:00 AM at the lodge in the park. The hike will begin at 9 AM and head west, stopping at Victor Municipal Park for a short break. The next stop will be at Finger Lakes Community College, just west of Route 251. A pizza lunch will be served at Fishers Fire Station in Fishers around noon. The hike will end at Powder Mills Park where transportation will be provided to get everyone back to Farmington. Everything is free.
Pre-registration is required so VHT can get a count for the food and transportation. Please call 585-234-8226 to leave your name, phone number and how many in your party will be attending for breakfast, lunch and if return transportation will be needed. Everyone who completes the entire hike will be awarded a free year of membership in Victor Hiking Trails. This includes current members.
National Trails Day was started in 1993 by the American Hiking Society to bring awareness of trails to the public. Victor Hiking Trails is proud of the fact that it has participated every year with a special hike in Victor, showcasing our newest trails and improvements to the existing trails. The Auburn Trail was one of the first trails opened to the public by VHT. Two federal transportation grants have been awarded to Victor to improve the Auburn and Lehigh Trails. Come join the fun on June 1st to see why these multi-use trails are such a great asset to our community.
The VHT board of directors meets on the third Thursday of each month at 7:30 p.m. at the Victor Town Hall, 85 East Main Street. There is parking in the rear of the building. The public is always welcome. For additional information about the organization, call 585-234-8226 and leave your name and phone number after the tone.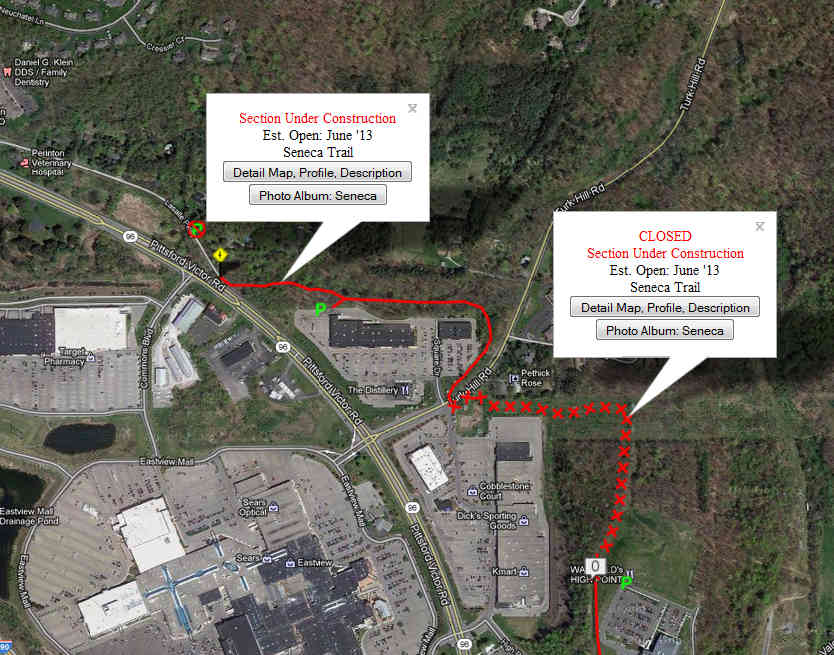 5/10/13 Seneca Trail Extension
Connection with Crescent Trail
Once again the Seneca Trail is being extended northward. This time to the Perinton town line and a connection with the Crescent Trail system at Lasalle Parkway! This link has been anticipated by both groups for many years. Together they make for one of the longest foot travel paths in the area. It stretches from Fairport to Boughton Park in Bloomfield.
The new VHT section from Lasalle Parkway to Turk Hill Road is in a wooded valley with a small stream.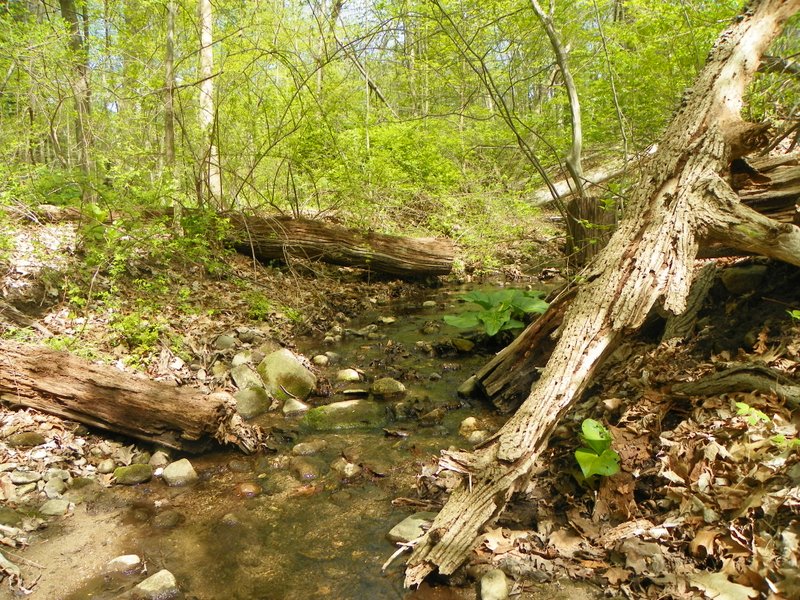 It has been cleared and graded by volunteers from both VHT and "The Wednesday Group," a bunch who do work for a number of different trail organizations. Thank You Volunteers!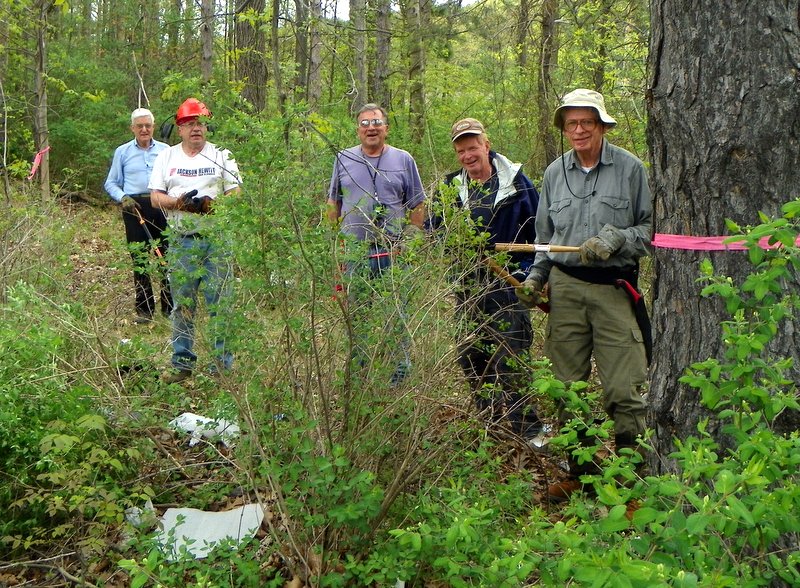 Like most new trails, this land has a lot of junk on it right now. It will take many people many trash bags before it looks as good as all our other trails. YOU can help. Go look the new trail over, but take a shopping bag or two and pick up the litter along and near the trail. This is a very important volunteer job for VHT. You can report your activity and/or learn of other ways of volunteering by contacting our Volunteer Coordinator.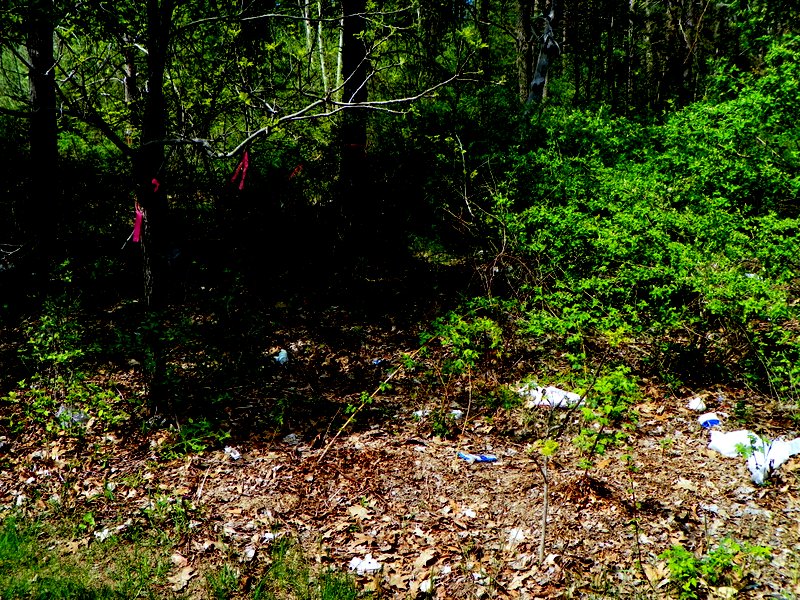 The Turk Hill Road crossing is at the signal light. Beware of turning cars; drivers are not used to seeing pedestrians at that corner.
The section from High Point to Turk Hill Road will be opening by June. It is mostly open meadow under the high power lines. It is still unmarked & unmowed and closed for now.
5/10/13 Two Events Scheduled to Use the Newly Extended Seneca Trail
The newly opened (and to be opened) sections of the Seneca Trail are scheduled to be used by two markedly different events this season.
The first is TrailsRoc's 0 SPF Trail 1/2 Marathon on Saturday, July 20th 2013, presented by: The North Face – Victor. This 13+ mile trail race will start and end at The North Face, Valentown. It will be run over the Seneca Trail and the Crescent Trail. Volunteers from TrailsRoc have been helping in opening the new Seneca Trail sections, and VHT is to be one of the recipients of the funds raised.
The second is VHT's own 3rd Annual Challenge Hike on September 29th. This has always been an end-to-end hike on the Seneca Trail, and each of the years has seen a longer hike as the Seneca Trail has been extended each year. This year will be about a half-marathon length, somewhat over 13 miles, but will be hiked, not run! More information will be published on this event later.
4/10/13 Temporary Trail Closure: Seneca at Auburn Creek
Due to construction the Auburn Creek section of the Seneca Trail is temporarily closed. The detour is along NY251 and the Trolley Trail (or Auburn Trail). Map.


*
4/6/13 The Spring 2013 VHT Pathfinder Newsletter is now available.
The newest Newsletter is available. It and past issues are available from the link in the left hand column.
Get ready for National Trails Day in Victor
Join us for birding at Braddock Bay
Hikes For 2013
Past Hikes

Jan. 12 Was changed to Trail Maint. Dryer Rd Park and Fort hill
Jan. 26 Moonlight hike
Feb. 9 Mendon Ponds Park
Mar. 9 Fishers Park

Crescent Trails hiked the Auburn Trail
Hunting seasons for 2013
Maintenance schedule for 2013
Mendon Ponds December 2012 and January 2013
Trail Count Report
Want more hikes?
VHT Sponsors
3/15/13 VHT Venture Crew Volunteer Opportunities
In an email today to all current and past VHT members, Chairman Dave Wright wrote:
Victor Hiking Trails, Inc.

March 15, 2013

Dear Friends of Victor Hiking Trails,

We have been invited to be a chartered organization for a new Boy Scouts of America Venture Crew. This program is designed for young men and women, ages 14 to 20, in the Victor- Farmington area, who would like to plan and participate in outdoor activities, such as hiking, camping, backpacking, canoing, kayaking, mountain and road biking, skiing, snowshoeing, rock climbing, whitewater rafting, etc.

We would also encourage the members to work on trail-building and trail improvement projects. Educational hikes, both local and regional, are also a possibility.

In order to make this happen, we need a few adults, male and female, to prepare a kick-off meeting to present the program to interested candidates and then help the new Venture Crew members get started for the first 3 to 6 meetings. The youth will elect a president and a committee to run the meetings, plan and schedule their events.

Chris DiGiacomandrea, the Scouting Executive for West Wayne and Ontario Counties, can be contacted at cdigiaco@bsamail.org or 585-330-9362 for any questions.

If you would like to help make this happen for the youth in our area, please call 585-234-8226 and leave your name and phone number. You will be contacted with additional information.

Sincerely,

David Wright

Chairman, VHT
10/15/12 Poison Ivy News
NPR has an article on a new invention, not yet on the market, that makes poison ivy oil visible. Caution: nasty picture! It also has immediately useful information on some of the best ways of cleaning the oil off.
"So, OK, [inventor and poison ivy expert and sufferer] Braslau's spray lets you know you've been exposed to urushiol [the oil in poison ivy]. Then what, I asked her?

"TecNu," she replied.

TecNu is a water-free cleanser. There are other soaps that work getting the oil off — for example, that stuff called Goop car mechanics use to degrease their hands, Braslau says, and some dish-washing detergents. But she relies on TecNu."
There is plenty of poison ivy in the Victor area including on and near our trails.
---
Welcome to the Victor Hiking Trails, Inc. official Homepage!
Your contribution will help maintain and extend a network of hiking trails in the town of Victor.
We are a grassroots organization that began exploratory meetings in the fall of 1991. We have accomplished a lot, but we still have much work ahead of us. We currently have over 30-miles of open trails. These include well connected multi-use rails-to-trails, secluded woodland rambles, stream side walks, and longer cross-town hiking trails. Some connect various town and state parks, others exist by themselves. In addition, we are actively scouting out possible sites and negotiating with land owners and developers for permission of public access to their property. Our purpose is to develop a trail system which will preserve open space and provide an educational and recreational experience for everyone in the town of Victor.
We the People: Involved in Victor Hiking Trails are kindred spirits. People who care about the land on which they live. People who enjoy nature in all its bounty. People who want to improve their town and leave something that will add value to our lives. People like you. We welcome you among us. We meet on the third Thursday of each month at 7:30 PM in the Victor Town Hall at 85 East Main Street. Meetings are informal and everyone is wehlcome. Please try to join us, you can get to know us better. We have regularly scheduled work parties for clearing and maintaining the trail system. Please see the calendar.
VISION
Create and maintain foot trails and multi-use paths in the Town of Victor.
Promote a meaningful relationship with nature.
Promote individual responsibility for protecting the environment.
Provide recreational activity through walking, biking, snowshoeing, and cross country skiing.
Provide education to the public through nature interpretation, historical information and proper use of trails.
Promote good relationships with all people (landowners, government officials, adjacent townships, and trail users).
MISSION
Trails of various terrain, landforms, views and habitats for various plant and animal species.
Trails in various geographic sections of the Town of Victor with access by as many residents as possible.
Trails of various lengths and difficulties.
Trails for foot traffic and paths for multi-use including bikes.
OFFICERS:
Dave Wright - Chairperson
Jeff Hennick - Vice-Chairperson & WebMaster
Wizzy Geno - Volunteer Coordinator
Nat Fisher - Secretary
Chauncy Young - Treasurer
Carol MacInnes - Trail Master
Larry Fisher - Trail Boss
Roberta Lockwood - Historian
Ruth Nellis - Education
Dave Coleman - Membership
You too can be a part of the VHT team!
HISTORY
1980's - Conservation Board initiates concept.
Summer of 1991 - Town Board approves concept
September 24, 1991 - First organized meeting
May, 1992 - Incorporated in New York State
September 18, 1993 - First trail opened
June 16, 1994 - Tax exempt status approved by Federal Government
MEMBERS are people who:
Enjoy nature.
Care about the land.
Want to improve Victor.
ACTIVITIES and CALENDAR
Hikes - Second Saturday each month, two weekends each year and a National Trails Day Special
Maintenance - Usually One weeknight and two weekend mornings each week
Meetings - Third Thursday each month 7:30 p.m. at Victor Town Hall
Saturday and Weekend Hikes
Usually on the second Saturday of each month we gather at 9:00 AM for a 2 to 3 hour hike, for local hikes; bring lunch for more distant destinations. Sometimes we follow existing trails and sometimes we bushwhack to scout out new trail locations. Each Spring and Fall we have a weekend in the Adirondacks. For the location of future hikes watch the newsletter, call one of the officers for detailed information, or see VHT's On-line Calendar. Please join us.... it's a great way to meet the members. Here is the list of past and future hike destinations.
How You Can Help
We need assistance in a myriad of areas. Join us at a meeting and volunteer your services. Some of the needs (but by no means all) that we have are:
lead hikes
draw maps
measure trail lengths
make and install signs
build trails, bridges and boardwalks
build map boxes
identify trees, flowers and birds (Monkey Run, example)
illustrate
take photos
write articles for our newsletter and the Town newsletter
collect donated items
work on a committee
recruit new members
work on a fund raiser
scout possible trail locations
help with paperwork
make phone calls
We'll create more opportunities as we grow. Maybe you can provide a skill or interest we need but haven't even thought of yet. You will be surprised how skilled you are. Join us and put your talents and interests to work.
Annual membership dues are:
$10.00 Supporting Membership
$20.00 Contributing Membership
$100 Trailblazer Membership
$250 Path Builder Membership.
Of course, additional donations are gratefully accepted and are tax deductible.

If you join or renew at the $20.00 level or above, you can sign up a friend or neighbor for free.

Donations of useful equipment are also welcomed. If you are an owner of land with trail possibilities, please contact us about a Revocable Permit for a trail.