Updated May 19, 2019 JH
Fishers Trail - VHT
Victor Hiking Trails
0.8-mile one way, a hill
Blazed blue.
NOTE: on-street sections may not be blazed except at intersections.
May 2019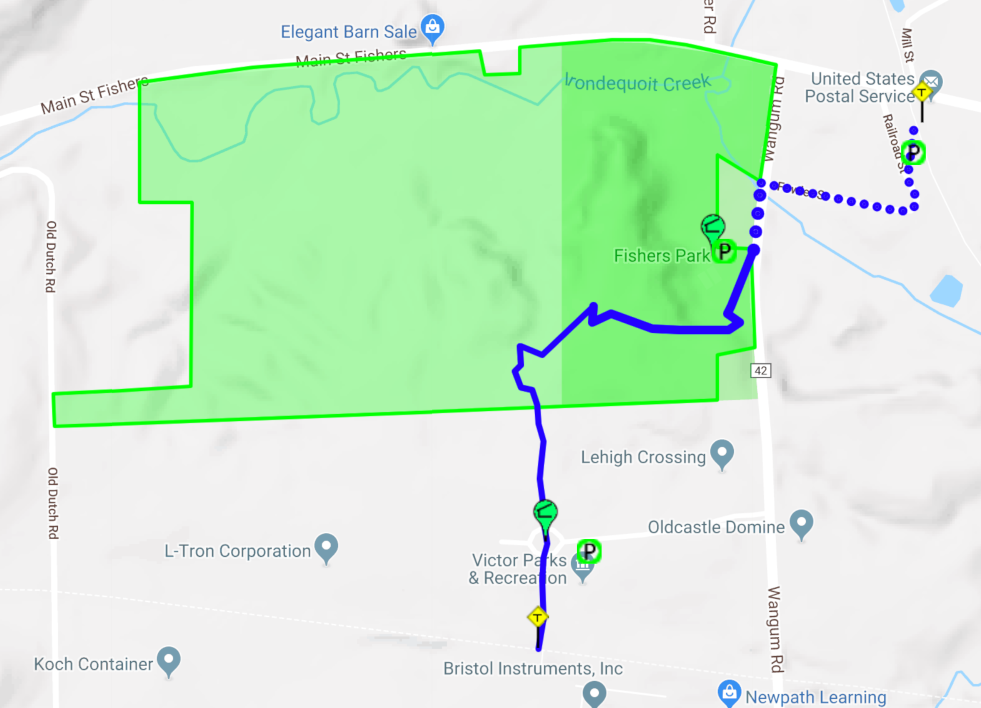 This footpath joins the Lehigh Trail, Fishers Park with its trails, and the Auburn Trail.
There is a short section that is on low traffic street. In woods it is 2- to 3-feet wide on a dirt or grass surface; and on the hill in Fishers Park it is somewhat wider.
It can also be part of many different loop hikes. The Fishers Park trails offer many opportunities. It, together with the Auburn and Lehigh Trails, offer several more in combination with Old Dutch Rd, the Dominie Trails, or the junction of the Auburn and Lehigh Trails are some possibilities.
From South to North
Lehigh Trail to Fishers Park
Crosses Lehigh Crossing Rd. (no connection with Lehigh Crossing Park).
Starting at the Lehigh Trail, it is through open lawn past the Victor Parks and Recreation Building. At the crossing of Lehigh Crossing Rd, in the middle of a traffic island is a small shelter. Then more open lawn and into the woods of Fishers Park.
Through Fishers Park to Wangum Rd.
In the Park, the Fishers Trail connects with the many loop trails. To stay on the Fishers Trail, follow the blue blaze marks. At the tennis courts and Wangum Rd. turn left (north) and cross over to Fowler St.
Wangum Rd. to Auburn Trail
Follow Fowler St. for one block to the end and turn left, north, and enter the Fire House parking lot. Continue north and east to the information kiosk for the Auburn Trail.
Parking
Parking for the trail is available behind the Fishers Fire House, at the tennis courts in Fishers Park, and at the Victor Parks and Recreation building. There are other parking areas in Fishers Park and for the Lehigh Trail.
Elevations and Distances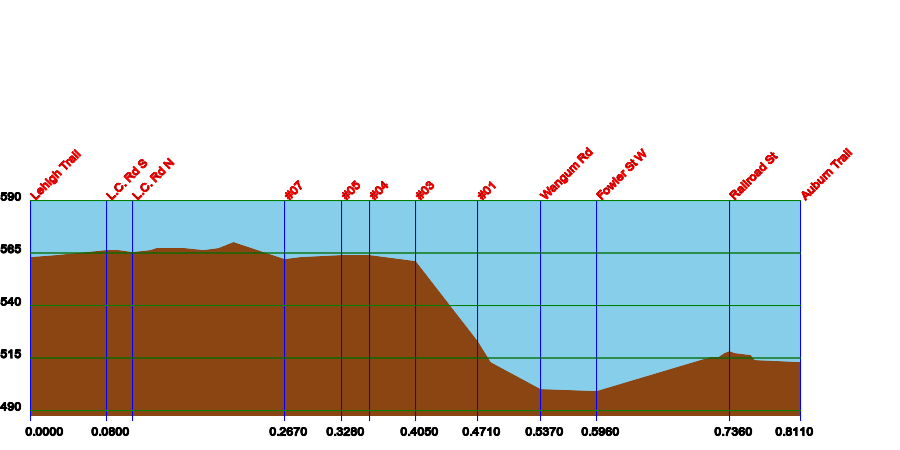 Caution: Elevations are from USGS. They are very precise, but not necessarily accurate. They may be from any place up to 100-feet from the trail!